PT Relasi Publika : Firma PR Untuk Semua Layanan Alternatif Komunikasi dan Informasi
PEOPLE RELATION (PR) : Full Service Alternative Communication Firm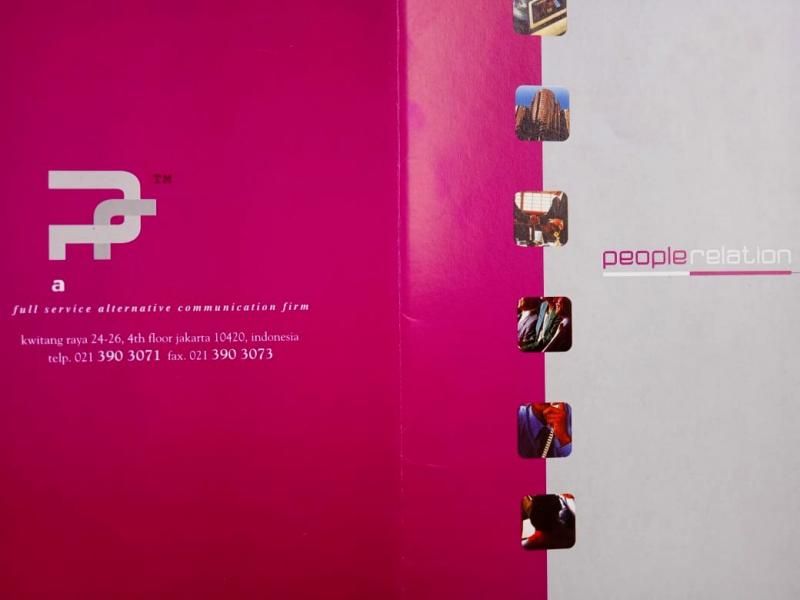 People Relation, PT Relasi Publika , Firma PR untuk Strategi Alternatif Komunikasi
Jakarta, law-justice.co - HISTORY
In today`s world, only those who compete strategically will win profits by quickly gathering and analyzing information and responding quickly. Sooner or later, every company or organization needs to gather information into a fast, structured and strategic response. Whether it is in press relations, advertising, public relations, government / parliamentary relations, NGO`s relations, social media campaigns, investigative research and community relations or public affairs. Now, People Relations is here to carry out all of these services.
PR "People Relations" is the brand name and the public name is PT Relasi Publika. People Relations helps clients communicate their messages effectively to the public that is required by utilizing various techniques, such as press releases, media relations, press conferences, special events, media campaigns and social media programs.
People Relation membantu klien untuk memahami perubahan struktural yang sedang dilalui pemerintah pusat, provinsi dan daerah di Indonesia. Dengan demikian kami memfasilitasi klien dalam pendekatan mereka ke lembaga pemerintah dalam lingkungan yang sepenuhnya direformasi.
Since 2000, after economic crisis, The People Relation has helped various national and multinational corporations, start-ups and non-profit organizations navigate this dynamic landscape. The team brings together highly-networked government affairs, corporate reputation and media relations specialists, who leverage deep local insight to help clients identify and capitalize on emerging issues and opportunities, as well as to tackle complex issues in a rapidly changing economy crisis.
Our consultants have gained deep insight and wide knowledge of various industries and developed extensive networks across the public and private sectors throughout the country.
With our focus on delivering services and creating added value for our clients, we are trusted by our stakeholders - public sector institutions, private sector players, national and international organizations, traditional and new media outlets.
Stakeholders are evolving both literally and figuratively. Their expectations have changed. Their needs have changed. They have a desire for the right balance of engagement in our current environment of "digital by default." And, for many organizations, the stakeholders themselves have changed. New stakeholders are entering the field, and longstanding powerbrokers are no longer in the mix. As stakeholder capitalism takes hold, the way we engage with new people and powerbrokers will be critical for sustained success.
In a world where we remain focused on the Covid-19 crisis at hand, People Relation is thinking forward towards recovery. How we come back stronger will look different for every organization, and what we do now will have an impact on future success. People Relation is taking a deep dive into key industries with our expertise and perspectives on what's next.
The COVID-19 pandemic has concentrated attention and resources on the people and institutions that are essential to society. These vital workers and their employers will earn essentialness dividends —both financial and reputational—that recognize their systemic importance to our welfare and continued existence.
OUR PRINCIPALS
Dr. Roy. T. Pakpahan SH, Founder and Chairman
Roy went to law school and worked in a law firm when he was retired as journalist for 12 years at Suara Pembaruan, Suara Bangsa and Metro TV. He has been joined with APCO PR worldwide, at Jakarta office as a Senior Consultant and Indo Pacific PR. Roy holds a Doctoral in Public Policy studies from the University of Brawijaya. Having offered his expertise for more than 25 years and various skill like; public relation, litigation, media and also as lecturer. Roy has gained a number of wonderful achievements during his career.
Dr. Ondy Saputra MSi, Associate Director
Ondy holds a Master`s degree in Mass Communications studies from the University of Indonesia and Doctoral in public policy studies of Brawijaya University. He is highly regard as one of Indonesia`s leading journalists. Ondy is an expert in corporate communication and management, dedicating himself as a corporate communication consultant in several multinational companies. He has been engaged in managing corporate reputation, building relationships and partnerships with government, communities and associations and dealing with media.
We also have support of 12 expert associate and consultant from various skill and experiences. Our consultants have gained deep insight and wide knowledge of various industries and developed extensive networks across the public and private sectors throughout the country.
BUSINESS INQUIRIES
To meet the needs of clients throughout Indonesia, People Relations has staff based in the business, financial, political and media capitals throughout Indonesia and global networks. Our office is in; Jl. Wijaya I No.81, Kebayoran Baru, South Jakarta, DKI Jakarta (Level 2), Telephone: +62 21 27083520, cellphone; +62 81381421090
Have a request for proposal, information or credentials? Send us an email at robingun161@gmail.com and attach any information such as documentation, links or forms.
---
Berita Terkait